Help save the monarch butterfly with free seed for your golf course
September 25, 2019 | Megan HirtFiled to: Pollinators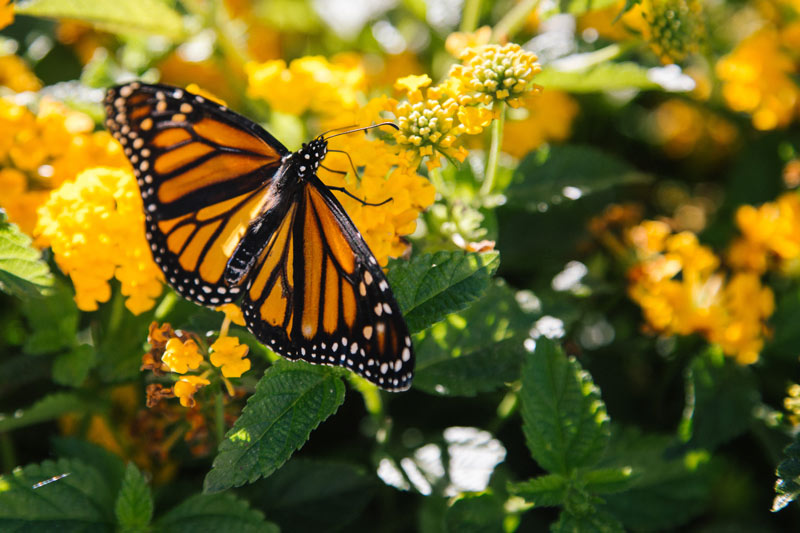 A monarch butterfly in Grover Beach, Calif. Photo by Kyle Glenn/Unsplash
---
If you've ever considered adding plants that support monarch butterflies or other pollinators to your golf course, there's no better time than the present to give that idea wings (eye-catching orange-and-black wings at that).
Audubon International's Monarchs in the Rough program is offering free native milkweed and wildflower seed to golf course superintendents in 28 states to facilitate the creation of on-course oases for monarch butterflies. The species has experienced a staggering downturn in population — in part because of habitat loss — that has edged it close to extinction. According to the Xerces Society, an international nonprofit dedicated to insect conservation, monarch butterfly numbers have declined 80% to 99.4% across the U.S. since the 1980s.
The silver lining when it comes to monarchs? "They're very resilient, and if we provide the habitat, they use it," Scott Hoffman Black, executive director of the Xerces Society, told GCM in 2016. "Anybody can take action — a golf course, a homeowner — by putting in and maintaining a high-quality habitat." (Get insight from Black on situating your monarch plot, preparing the site and more in Making a way for monarchs.)
As professional land managers whose network of canvases spans the nation, golf course superintendents are in a unique position to help save monarch butterflies through habitat establishment.
The ingredients essential to monarch butterfly habitat are native milkweed and nectar-producing flowers — the adults need the fuel from nectar-rich plants to make their annual 3,000-mile round-trip migration, and milkweed is the only plant that monarch larvae eat.
Monarchs in the Rough assists superintendents with planning, installing and managing monarch habitat, providing the know-how needed to incorporate such areas into the layout of any golf course. To date, more than 550 golf courses have joined the effort, supplying more than 700 acres of monarch habitat.
Free, regionally appropriate seed from Monarchs in the Rough is available to superintendents in the following states:
Arizona
Arkansas
California
Colorado
Idaho
Illinois
Indiana
Iowa
Kansas
Louisiana
Michigan
Minnesota
Missouri
Montana
Nebraska
Nevada
New Mexico
North Dakota
Ohio
Oklahoma
Oregon
Pennsylvania
South Dakota
Texas
Utah
Washington
Wisconsin
Wyoming
Superintendents can sign up for free seed from Monarchs in the Rough via this online form, or they can do so by emailing Kat Findlay, environmental program specialist at Audubon International. If your golf course is already a member of Monarchs in the Rough, you're invited to sign up to receive additional seed to expand your habitat area.
Read more: https://www.gcmonline.com/course/environment/news/free-monarch-habitat-seed#ixzz60k3a3wcj