Fairway to table: Growing fresh food at Cordova Bay Golf Course
The beautiful, bountiful gardens at a British Columbia course have become an important source of produce for its restaurant and a cornerstone of its identity.
July 2019 | Dean Piller and Emily Peltier Filed to: Gardens, Pollinators, Canada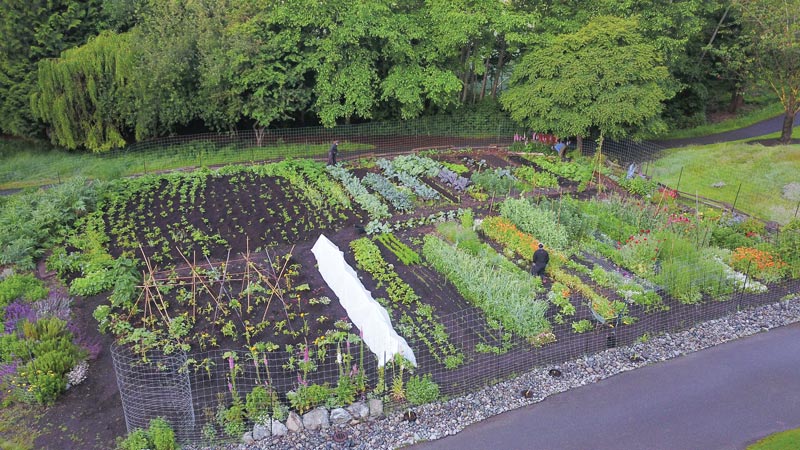 A drone's-eye view of the main vegetable garden at Cordova Bay Golf Course in Victoria, British Columbia. The garden is one of three that make up the backbone of the 18-hole facility's "fairway-to-table" program, which generates produce, flowers, honey and much more. Photo by Taylor Brass
---
Editor's note: The following story was originally published in the winter 2018 edition of GreenMaster, the official publication of the Canadian Golf Superintendents Association.
Approximately 20 years ago, an initiative began at Cordova Bay Golf Course in Victoria, British Columbia, to turn a small, unused portion of land beside our 15th tee box into a pumpkin patch. This was for general interest and beautification, and for the fall harvest to be used in autumn displays. Little did we know this would result in a major evolution and transformation of our horticulture activities and garden themes for decades to come.
Year after year, the theme of this garden would change. We experimented with stands of barley and millet, and eventually turned the area into a wildflower meadow with poppies, lupines, Shasta daisy, foxglove and fescue. Over time, this meadow became overrun with weeds, which prompted us to return to the original idea of a theme garden that would produce pumpkins and other vegetables for various uses.
This decision ultimately created the garden we affectionately call the "Veggie Patch." The garden has grown to be an important part of our identity, having laid the foundation for our entire horticulture program, which has grown bigger than we could have ever imagined.
A return to Cordova Bay's roots
During the early years of the Cordova Bay vegetable garden, the primary crop of pumpkins, squash and ornamental gourds provided ample product for fall displays. In fact, the produce was so abundant that Walter Gurtner, head chef at the club's Bill Mattick's Restaurant, used these seasonal vegetables in his fall and winter dinner entrees and house-made soups.
The presence of hyper-local vegetables on the restaurant menu yielded such a positive response that the horticulture department was inspired to expand the vegetable production. Not only is it a unique and sustainable project, but it also represents a return to the roots of the property, which was historically farmed by local legend Bill Mattick.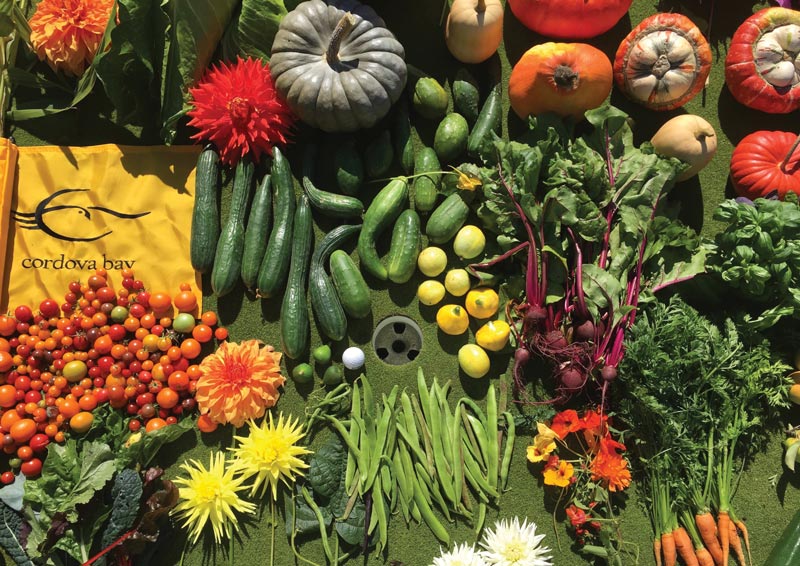 Just a fraction of the bounty produced by Cordova Bay Golf Course's fairway-to-table program. Photo by Emily Peltier
---
Guided by Walter and led by head horticulturist Emily Peltier, the horticulture team aims to grow fresh produce for the kitchen throughout the year. Providing a supply of seasonal vegetables in a consistent manner requires careful planning and patience. Starting with an original "wish list" from the kitchen, the garden developed through trial and error and with successes beyond expectation.
Over time, the planting plan has been carefully honed to represent a balance of what grows well in the garden and what is most practical in the kitchen. The garden is fully fenced to protect the crops from uninvited guests. Reliable, continuous-harvest crops such as kale, Swiss chard, arugula and broccoli are complemented by multiple seedings of beets, carrots and other succession crops. During peak season, the harvest of vegetables happens two days a week to supply the kitchen with ample product for its daily fresh sheet and menu planning. Harvests are often so plentiful that additional staff are scheduled for the kitchen to process the abundance of fresh material. Strong communication ensures that the vegetables remain a benefit and not a burden to the kitchen, with adjustments to harvest days and quantities made as the seasons change.
Squash and pumpkin are still grown for the dual purpose of seasonal displays and culinary uses. Garlic — one of the easiest and most economical crops — is planted every fall. Overwintered and perennial crops help extend the growing season with the goal of a year-round harvest.
Through continued collaboration with Walter, the horticulture team is currently trialing some new vegetables in the garden: celeriac and salsify. Unusually colored or shaped produce help the kitchen make the biggest impact on the plate. Russian Blue potatoes, for example, are a deep purple color that makes them unmistakable as a garden product. Round, bite-sized Paris Market carrots are cooked and served very simply to preserve their unique shape. But no matter the variety, the quality and flavor of homegrown produce speaks for itself.

Walter Gurtner, head chef at Bill Mattick's Restaurant at Cordova Bay, takes advantage of the gardens' peak-of-freshness produce for his culinary creations. Photo by Megan Piller
---
As each season goes by, the "fairway-to-table" program evolves and gains momentum. The dedicated growing space has expanded to include a secondary garden where squash and potato crops are rotated. A third area opened just this spring, primarily to serve as a potato patch (See "How does your garden grow?" below). The overall growing space totals more than 10,000 square feet. Each year, the growing process begins with seed starting in February, made possible by the recent addition of a small 16-by-20-foot heated greenhouse purchased through Costco. This space helps extend our production season, allowing us to provide tender herbs, greens and some warm-season crops to the kitchen through the coldest months of the year.
Harvesting far and wide
Included in Walter's wish list was an herb and edible-flower garden close to the clubhouse so his staff would have easy access to readily used herbs. Outside the kitchen door, woody herbs such as oregano, sage and rosemary are complemented by seasonal herbs such as dill, cilantro, basil and chives. Edible flowers, including nasturtium and calendula, are used for plating presentation to add that special touch. The talents of a local metalsmith were employed to provide beautiful wrought-iron window boxes outside the restaurant for a tidy and useful display.
This small sample of our edible diversity communicates the intention of our fairway-to-table program to those guests who may not see the large vegetable garden on the golf course. Planting edibles in our ornamental beds around the clubhouse helps continue the theme of vegetable gardening throughout the property. Artichokes and corn are recognizable food crops that function as beautiful garden centerpieces in many of our annual gardens.
Our back nine features a small orchard that was left intact when the property was developed into the golf course. Not only does this serve as a connection to our agricultural roots, but the remnant provides a significant number of apples and pears to the kitchen. Handpicked by the gardening team, these are a primary ingredient in chutneys, butters, jellies and jams that are handcrafted by the kitchen and added to seasonal menus. This is a value-added product that continues to strengthen the connection between the restaurant and our gardens.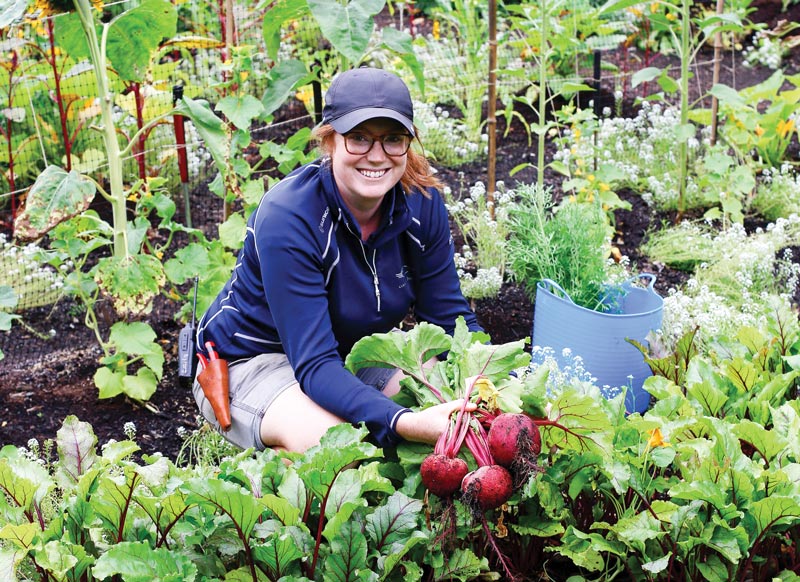 Head horticulturist Emily Peltier harvests beets. Photo by Megan Piller
---
Looking beyond our garden fence has resulted in new discoveries. Some unusual ingredients are carefully harvested from natural areas and trees scattered across the golf course property. Stinging nettle, for example, is handpicked for soups and sauces. In addition to the heritage fruit trees, yellow plums grow on-site, and each fall, cherries are harvested from a unique variety of ornamental tree, cornelian cherry dogwood, or Cornus mas. Rosehips are picked from native rose bushes, and juicy Oregon grapes are collected from their eponymous plants on the edge of a bordering forest. Delicious preserves crafted from these ingredients are available in the restaurant and offered for sale in our pro shop — a taste of Cordova Bay at home.
The creative use of indigenous and ornamental plants by our kitchen staff encourages us to plant, when possible, new material that serves both an ornamental and edible function. This year, a new initiative supporting a nearby organic farm aimed to provide fresh snacks at our kiosk. Locally grown strawberries, raspberries, blackberries and blueberries are blended fresh in smoothies as they are seasonally available. Additional freezer space has been secured to stockpile these berries for use in crumbles and desserts throughout the year. House-brewed iced tea is infused with our herbs, and daily soups integrate many of the seasonal ingredients. This initiative, providing healthy alternatives to our customers during their rounds, has been well received.
A thriving ecosystem
The introduction of flowers to about 15 percent of the garden space in our vegetable garden has had a positive impact on the garden's overall success. Annuals and perennials were planted for cut-flower production, but also to draw pollinators and beneficial insects. Alyssum is widely used as a living mulch or cover crop, while sweet peas, dahlias, sunflowers, zinnias, snapdragons, strawflowers, statice, poppies and echinacea are some cut-flower favorites. This beautiful and fragrant display of blooms is ever-changing yet continuously attracts beneficial species.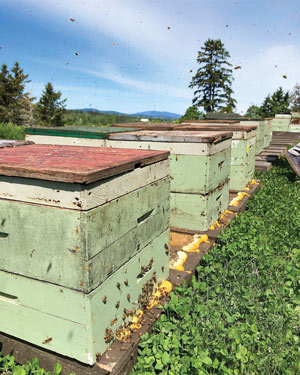 Right: Beehives from a local apiarist long have resided on an undeveloped part of the Cordova Bay property. Photo by Emily Peltier
These results have exceeded even our most optimistic expectations. Bumblebees, dragonflies, tree frogs and snakes have all made homes in the garden. Native birds such as red-winged blackbirds love the dried sunflower heads, while rufous hummingbirds particularly enjoy the bean flowers as they're aiding in pollination. A large population of Pacific tree frogs helps naturally manage the insect population.
In addition to attracting these local species, the garden is a destination for a resident honeybee population. A local apiarist and honey producer, Babe's Honey, has kept hives in an undeveloped corner of the golf course property for 25 years. Our gardens, ponds and natural areas support the production of their wildflower honey, which is sold year-round in our pro shop. Orchard mason bee houses are strategically installed every spring to encourage the population of this seasonal bee. This species aids in the pollination of fruit trees and other early-flower plants but needs some assistance to thrive.
As the vegetable garden has matured and settled into a balanced ecosystem, the abundance of insects, reptiles and birds helps naturally control seasonal pest populations and indicate overall garden health. In addition to these natural inhabitants, 70,000 adult ladybugs are released into the garden from spring to early summer. They act as a biological control for aphids and other soft-bodied mites. This year, dozens of ladybug larvae were spotted throughout the garden — a sign that the population is becoming established.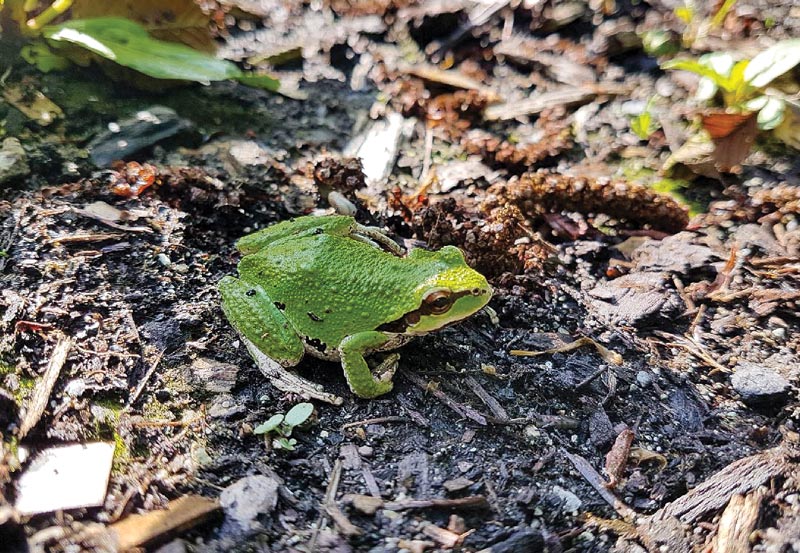 A Pacific green tree frog passes the time in one of Cordova Bay's gardens. Photo by Emily Peltier
---
The biodiversity of the growing space improves the success of the garden, the produce and the overall golf course. As Cordova Bay is a longtime Certified Audubon Cooperative Sanctuary facility, these sustainable efforts encourage and support a thriving bird, wildlife and insect population.
Opening the garden gate
While golf courses are appreciated as beautiful and dedicated green spaces, the primary recreational function can limit the understanding of their potential as a wide-ranging growing space. By reclaiming an unused corner of the golf course and transforming it into a vegetable garden, we have created distinct benefits beyond the fresh produce and cut flowers.
The gardening practices we affectionately refer to as "fairway-to-table" are a constant topic of conversation and a true source of pride for everyone connected. The success of the program relies on collaboration between a range of staff and promotes positive team building across departments. The story of this program is shared primarily by pro shop staff and restaurant servers, as they are the first to engage with members and patrons.
Furthermore, members and customers continue to spread the story among guests and visitors. People enjoy observing the garden and understanding the process of our fairway-to-table program. Many regulars and members have a special interest in the yearly progress and success of the garden. It is not uncommon to see people taking pictures of the garden and even selfies with it, to share their experience with friends and family. This word-of-mouth advertising is an invaluable source of support for our projects and facility.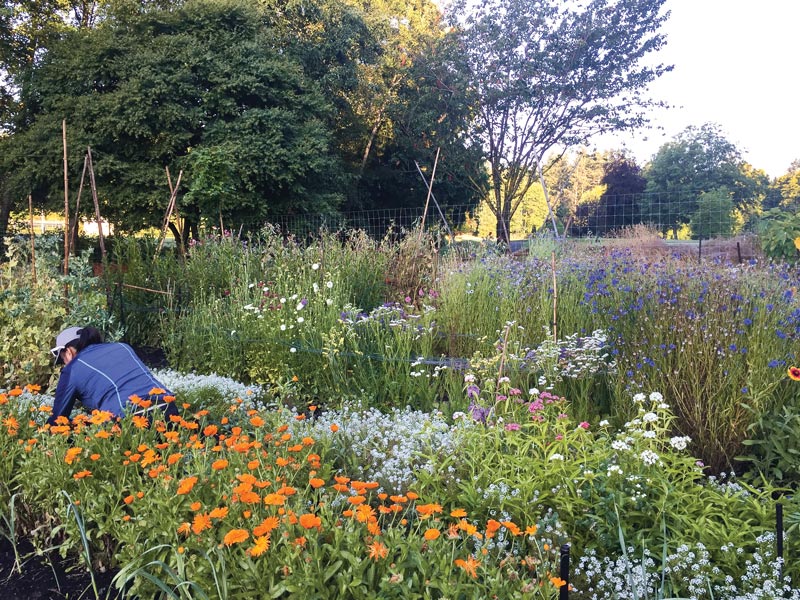 The staff at Cordova Bay Golf Course interplants flowers over about 15 percent of the vegetable garden for cut-flower production, and to lure pollinators and other beneficial insects. Photo by Emily Peltier
---
This success allows us to spread the bounty of the garden and give back to the community. Through the summer, small fresh-cut flower bouquets are available by donation to a local charity organization, with nearly $600 raised last summer alone. We continued this annual initiative through the holiday season, with decorative greenery swags and wreaths available by donation.
Creative initiatives like these contribute to a good cause and allow people to take a piece of the Cordova Bay experience home with them. Seasonal displays, fresh greenery and cut-flower arrangements help cultivate a unique experience at our facility by using the natural resources of the golf course.
These programs have been so well received that seasonal decorating workshops, informative cooking seminars and tours of the garden are regularly scheduled club events. To keep the public and membership up to date with garden progress and seasonal practices, a monthly newsletter is published. Additionally, daily garden photos are connected to the website through social media. The buzz surrounding the Cordova Bay veggie garden extends beyond the golf circle — this year, our team hosted horticulture college students and a local Master Gardener chapter.
From creating a community and providing quality produce to improving the understanding of golf courses as diverse spaces, Cordova Bay's fairway-to-table program has been a small investment with a large return.
---
How does your garden grow?
The fairway-to-table program at Cordova Bay Golf Course in Victoria, British Columbia, just keeps growing.
A new garden along the seventh fairway was constructed in the off-season and planted this past March. The new garden will serve primarily as a potato patch, with a few rows of onions and flowers for diversity.
The location left of No. 7 fairway was originally a sod nursery but years ago was naturalized into rough and out-of-bounds. An open and sunny spot, it's free-draining, with easily adapted existing irrigation.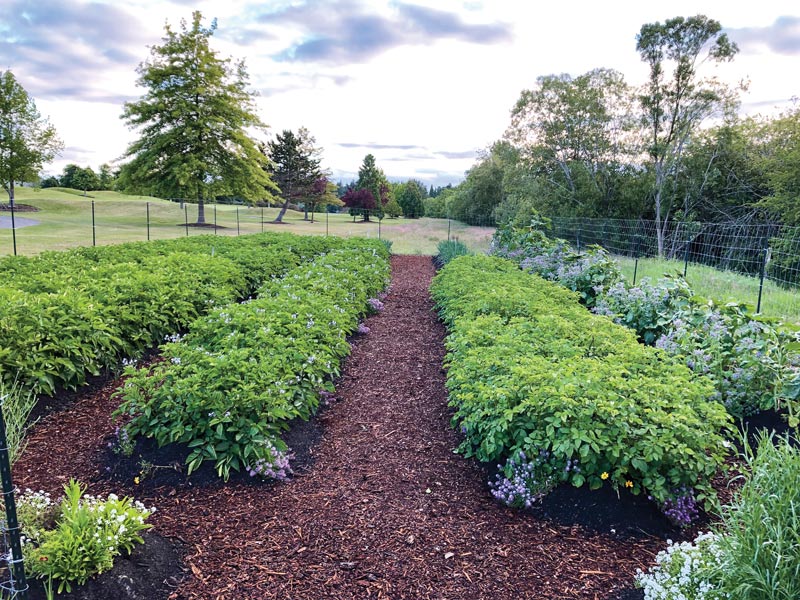 Planted in March, Cordova Bay's new potato patch began producing this spring. Photo by Emily Peltier
---
Cordova Bay staff produced all the in-house topsoil from the course's compost program. Soil was laid 18 inches thick to avoid the need for spraying or removing the turf underneath. Paths were covered with recycled cardboard topped with 3 inches of bark mulch for weed suppression.
Six varieties of potatoes were planted in late March just after garden completion, and the earliest Warba potatoes were being harvested in early June. The other harvests will be staggered throughout the season to ensure a steady supply of unique, garden-grown potatoes for the restaurant. Russian Blue, a purple-fleshed potato, is a favorite in the kitchen, as it remains a stunning shade of purple even after cooking.
Sunflowers, alyssum and perennial flowers were planted to help attract pollinators to the new garden space. By adding this third space — in addition to the main garden and the plot at the maintenance shop — Cordova Bay can better rotate crops and maintain soil and plant health
Read more: https://www.gcmonline.com/course/environment/news/cordova-bay-golf-garden#ixzz60l6mZSY1